Meet Our Team
Our compassionate and highly skilled staff strives to create a comfortable and shame-free treatment environment.  We are a caring team that insists on delivering the highest quality dental care in an active partnership with our patients to help them achieve healthy, attractive smiles.  We earnestly seek to create an environment of integrity, open communication, and comfort for all who walk through our door.
Margaret Schick
I have been married to Dr. Rob for almost 30 years. Upon graduation from the University of Oklahoma in 1982, our careers moved us to Oklahoma City and Dallas. Once our family started growing we realized it was time to come home to Duncan enabling us to give back our time and talents. Duncan is a wonderful place to call home. I look forward to meeting and getting to know all of you.
Myra Jones
I am the financial coordinator for the office. I joined the team in 2005 with over 30 years accounting and insurance experience. I will submit your dental insurance and assist you with payment and financing options. Healthcare financing through CareCredit is available for qualified applicants. I am dedicated to helping our patients receive quality dental care.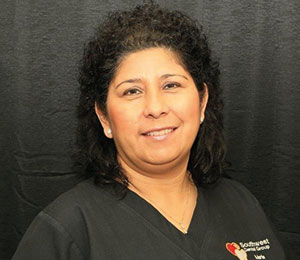 Maria Martinez
I have worked for Dr. Schick since March of 2001. I love working with our patients and enjoy my co-workers. I married my husband, Rudy in 1982 and we have 3 wonderful kids, Elizabeth, Christina and Rodolfo Jesus. I love spending time with my family and cooking. We stay very busy with our son's sports activities and enjoy spending time with our grandchildren. My other passion is being active in my church activities.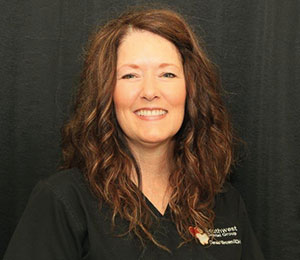 Denee Brown
I am a Registered Dental Hygienist with Dr. Schick since March 2000. I have been truly blessed with a career that I absolutely love! I am passionate about this practice and its wonderful patients. I strive daily to provide our patients with the highest quality in preventive and therapeutic care.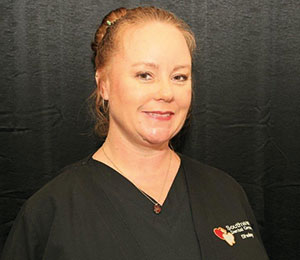 Sheley Womack
I graduated from Platt College in the spring of 2003 and began my career as a dental assistant at Southwest Dental in September 2003. I love working in the dental field. I enjoy our great patient base, and I am very thankful for being given the opportunity to take care of them, and their families. I love to spend all my free time with my two children, Samantha and Alexander.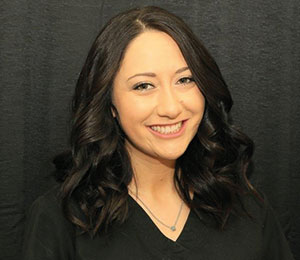 Lauren Burrow
I have been working as a dental assistant with Dr. Schick off and on since 2011. I assist Dr. Schick with restorative procedures, assist the hygeinists with sealants and radiographs and also take care of the bleaching and laboratory. Working in the dental field is something I had wanted to do since I was younger and it's a joy to get to work here daily.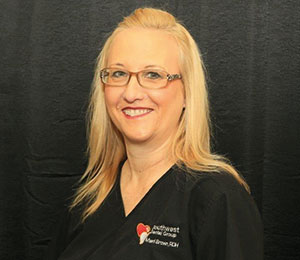 Marni Brown
I am a Registered Dental Hygienist for Dr. Schick. I have worked in the dental field for over 30 years and began working at Southwest Dental Group in June 2015. I grew up in Duncan and then attended MSU in Wichita Falls, graduating in 1989 with a Bachelor of Science in Dental Hygiene. I love the career path I am on and am thankful for the opportunity I have been given to work with Dr. Schick, our team and our wonderful patients.